TreeSize Free version 4 is a hot topic - on our site as well as in the Windows Store.
Version 4 of our most popular freeware offers exciting news:
Use the treemap to gain an overview over disk space usage.

Even more intuitive handling thanks to the new ribbon interface.

Improved touch UI on compatible devices.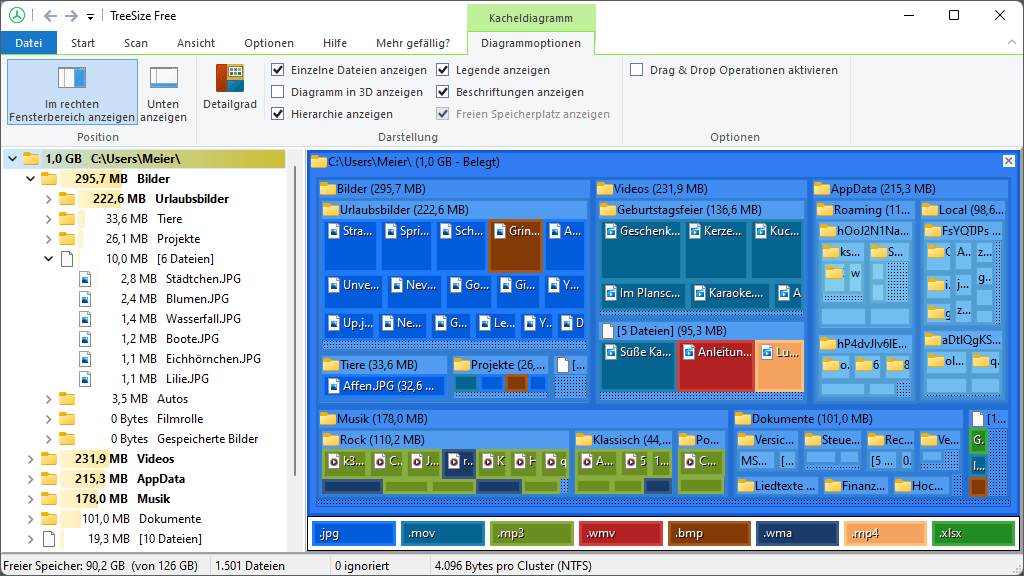 Check our website to see what other goodies TreeSize Free v4 has to offer - and don't forget to download the free full version while you are there!
Get TreeSize Free or learn more.
Check out TreeSize Free in the Windows Store.
---
You want to develop software in the Windows Presentation Foundation and require Windows Explorer features? In this case we have great news for you!
The ShellBrowser WPF Components will be out this year. Quickly and easily integrate Explorer functions in your WPF app.
You want to learn more? Check out our preview!
Register now and we'll deliver the latest ShellBrowser WPF news straight to your inbox.
Hint: Test the ShellBrowser Components for .NET and Delphi for free.
---
An administrator's nightmare: The server stops working, the computer freezes - the systen has reached capacity. But everything was fine yesterday...
What now? Time for TreeSize!
Fast Cleanup: Check the "Top 100"
While scanning your disks, TreeSize collects information about disk space usage and creates a list of the 100 largest files on each volume or share.
A single file might be the reason your system has gone on strike - an out of control log file, a far too big temp file can be enough to let all gears grind to a halt. If we have learned one thing in more than 15 years of disk space management, it's this: If the hard disk suddenly reaches capacity, chances are you will find the perpetrator in this tab.
New to Disk Space Management? Compare Snapshots
You have just installed TreeSize and have to analyze disk space usage developments, but there are no old scans to check. TreeSize offers the solution: Your disk space management software will access shadow copies already stored on your machine and use them for its snapshot comparison. See the development over time even before you start your second scan!
Test TreeSize before it's too late or learn more!
Check out diskspacemanagement.com and find more tips and information for all things disk space.
---
You develop software under Delphi and require features only the Windows Explorer can offer? With the ShellBrowser Delphi Components, adding file tree, dropdown menus, and previews becomes child's play!
It goes without saying that the ShellBrowser Delphi Components version 10.4 offer full Delphi v10.2 Tokyo support!
Start your free trial or see what the components can do for you.